India gender-based violence policy hub
This hub provides key facts about gender-based violence (GBV) in India.
Gathering and updating this information will help to inform our own research in the area and, over time, influence policy to help reduce GBV. It will also help to inform the None in Three game aimed at young people in India. For more information and references, download our policy briefing sheet.
Timeline of India's most important legislation related to gender-based violence

A large country in Southern Asia, India has a population of approximately 1.3 billion. It is currently classed as a lower-middle income nation according to the World Bank.
Gender Inequality Index (GII) measures gender inequalities between women and men in three important areas: reproductive health, empowerment, and economic status. Values range from 0 to 1, with higher values indicating more disparities between the genders. Countries with a similar score to India's current GII index of 0.53 are Iraq, Zambia, Gabon, and Qatar.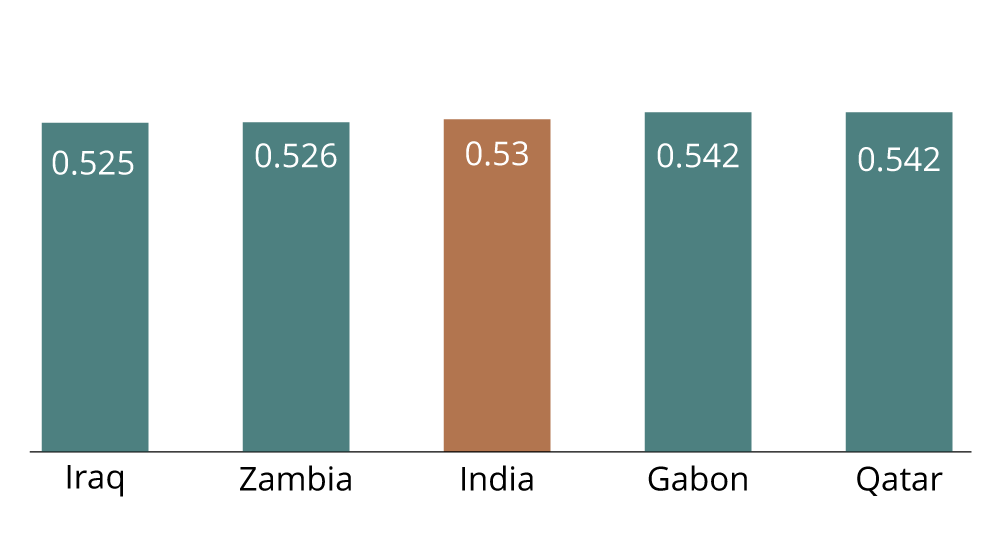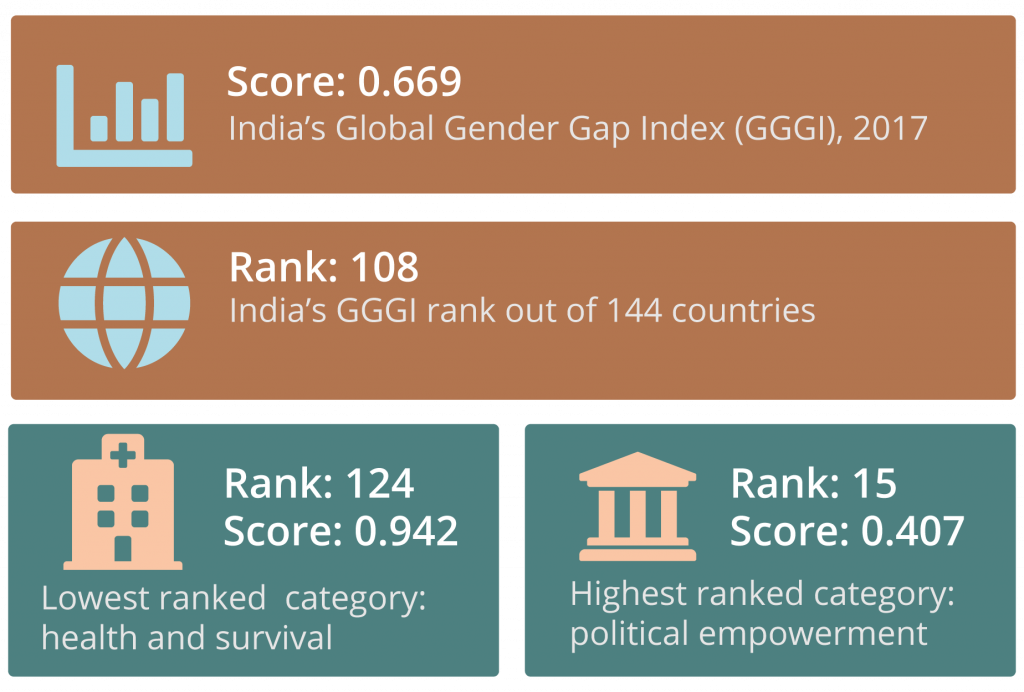 India's global gender gap index
Global Gender Gap Index (GGGI) assesses gender gaps on economic, political, education, and health criteria. Values range from 0 to 1, with lower values indicating more disparities between the genders. According to the 2017 report, India ranks 108 out of 144 countries. India's GGGI ranking has lowered in comparison with previous years, mainly due to a widening gender gap in basic literacy, healthy life expectancy, and political empowerment.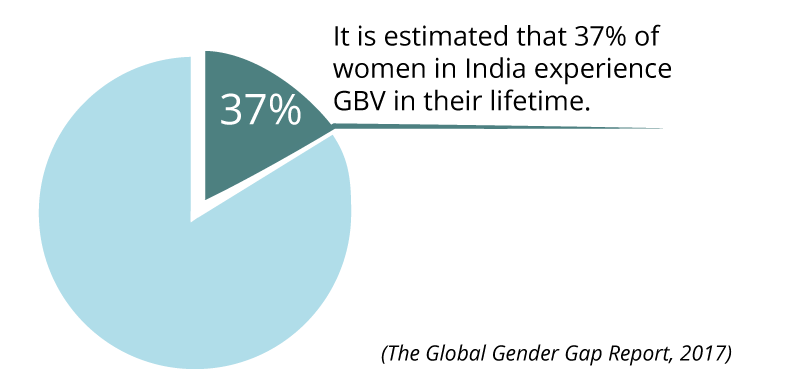 Gender discrimination is rife in India, including physical, sexual, emotional and economic violence, son preference, unequal resource distribution and unequal decision-making power. Caste discrimination, communal violence and economic policies also impact women in different ways.
GBV crime statistics are high, yet rights workers argue that official statistics do not reflect the magnitude of the problem, as sex crimes are likely to be underreported due to social stigma. The Hindustan Times (August 2017) reported that over 1,000,000 cases had been filed in 10 years under sections pertaining to cruelty by husband and dowry (Chachra, 2017).
Domestic violence
Findings suggest that prevention programmes should focus on addressing pro-GBV attitudes among both women and men. Such efforts appear particularly crucial in light of India's low GGGI health and survival rating. Indeed, a study with a large sample of  9,938 Indian women aged 15-49 revealed that experience of physically violent behaviours by their husband doubles the risk of poor mental health among affected women, compared with women who had not reported any physical spousal violence (Kumar, Jeyaseelan, Suresh, & Ahuja, 2005).
cruelty by husband or relatives crimes
assaults on women
kidnapping and abductions cases
rapes
violations of the Protection of Children from Sexual Offences Act, 2012
2002 study of men's behaviour towards their wives 
Other forms of violence against women and girls which require immediate attention include dowry-related violence and harassment and child marriage. Although, in line with the Prohibition of Child Marriage Act (PCMA) of 2006, the legal age for marriage is 18 for women and 21 for men, India has the highest number of child brides in the world. According to the Ministry of Women and Child Development, over half of Indian children suffer sexual abuse, but it is clearly far more widespread than is admitted (Human Rights Watch, 2012).
Responding to gender-based violence