Jamaica gender-based violence policy hub
This hub provides key facts about gender-based violence in Jamaica.
Gathering and updating this information will help to inform our own research in the area and, over time, influence policy to help reduce GBV. It will also help to inform the None in Three game aimed at young people in Jamaica. For more information and references, download our policy briefing sheet.
Timeline of Jamaica's most important legislation relating to gender-based violence

An island country in the Caribbean, Jamaica has a population of approximately 3 million. Jamaica is currently classed as an upper-middle income nation according to the World Bank
Jamaica's gender inequality index 2017
Gender Inequality Index (GII) measures gender inequalities between women and men in three important areas: reproductive health, empowerment, and economic status. Values range from 0 to 1, with higher values indicating more disparities between the genders. Countries with a similar score to Jamaica's current GII index of 0.422 are Brazil, Algeria and Botswana.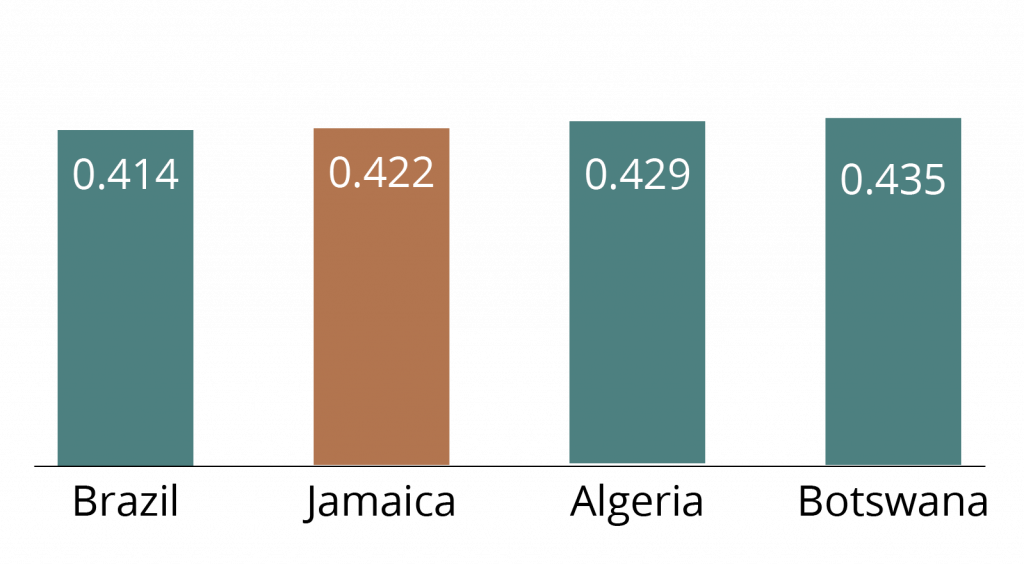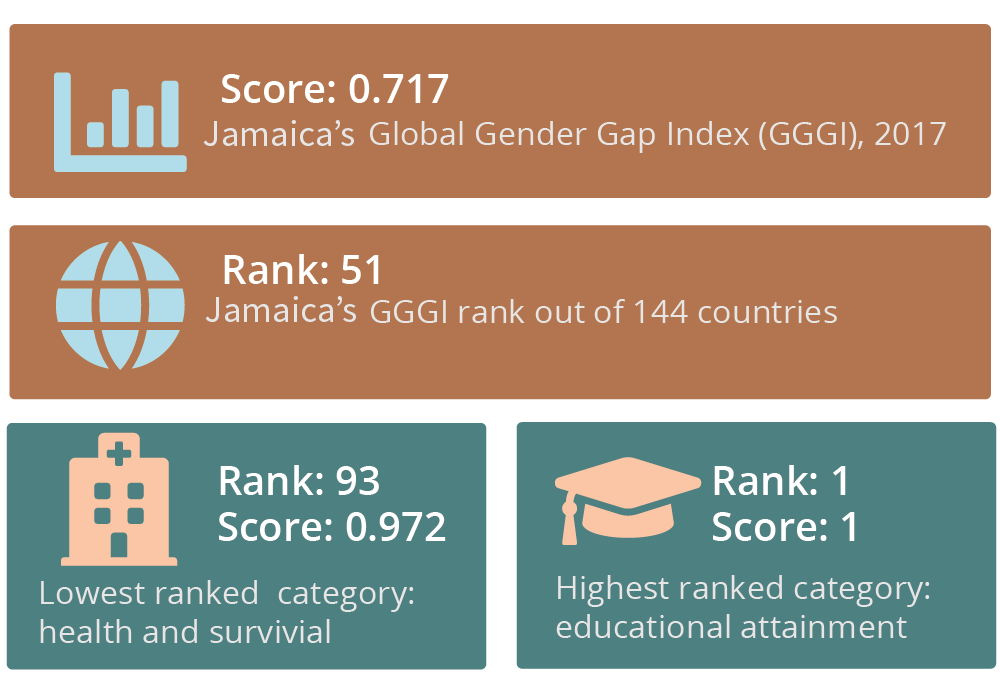 Jamaica's global gender gap index (GGGI)
Global Gender Gap Index (GGGI) assesses gender gaps on economic, political, education, and health criteria. Values range from 0 to 1, with lower values indicating more disparities between the genders. According to the Global Rankings Report 2017, Jamaica ranks 51 out of 144 countries.
UN Economic, Social and Cultural Rights Committee
In June 2013, the UN Economic, Social and Cultural Rights Committee expressed "its profound concern at high rates of domestic and sexual violence, and the lack of a comprehensive strategy to address the phenomenon" in Jamaica. There is no comprehensive statistical information available on the extent of different forms of GBV in Jamaica, but several reports note high rates of domestic and sexual violence and suggest that these crimes are underreported due to fear of shame, social stigma, disgrace, or further violence. As such, many women seek help only when violence becomes particularly severe. In a self-report study among 3124 high school students (1467 boys and 1657 girls), 44.7% participants reported having witnessed violence in their homes (Soyibo & Lee, 2000).
Intimate partner violence
Research amongst 187 women who access the services of the Women's Crisis Centre in Kingston demonstrates a high level of physical injury (89%) and a low level of reporting violent incidents to the police (26%) (Arscott-Mills, 2001).
Marital rape is not a statutory crime in Jamaica, which can partly explain underreporting of such violence to the police. Another form of GBV of deep concern in Jamaica remains commercial sexual exploitation of girls, in particular those from low-income and single-parent families.
Unlike in some other countries where GBV is widespread, authorities in Jamaica are generally willing to provide effective protection to women (Home Office, 2015). For example, in 2007, the Child Development Agency (CDA) launched a toll free telephone line to handle cases of human trafficking. In 1985, Jamaica ratified the Convention on the Elimination of all forms of Discrimination against Women (CEDAW). Nonetheless, there remains a lack of social programmes with sufficient scope to fully address the problem (Jones, Trotman Jemmott, Maharaj, & Da Breo, 2014; Miller, 2014). Indeed, although gender parity is addressed at structural level, it appears that there is still a need to tackle gender stereotyping and these efforts should start early in schools (for more information see Discrimination against Women UN meeting press release).