United Kingdom gender-based violence policy hub
This hub provides key facts about gender based violence (GBV) in the UK. Gathering and updating this information will help to inform our own research in the area and, over time, influence policy to help reduce GBV. It will also help to inform the None in Three game aimed at young people in the UK. For more information and references, download our policy briefing sheet.
Timeline of United Kingdom's most important legislation related to gender-based violence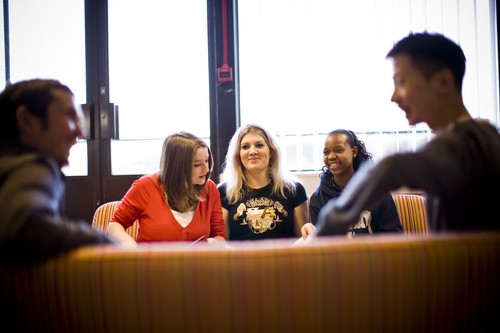 To advance gender equality in higher education and research, in 2005 the Equality Challenge Unit (ECU) established Athena SWAN Charter.
The United Kingdom (UK) is a country in Western Europe with a population of approximately 66 million. According to the World Bank country classifications by income level, the UK is currently classed as a high income nation (US$ 12,236 or more)
UK gender inequality index 2017
Gender Inequality Index (GII) measures gender inequalities between women and men in three important areas: reproductive health, empowerment, and economic status. Values range from 0 to 1, with higher values indicating more disparities between the genders. The UK's current GII index is 0.116. Countries with a similar score to the UK are: Australia 0.109, Ireland 0.109, Greece 0.120, and Estonia 0.122.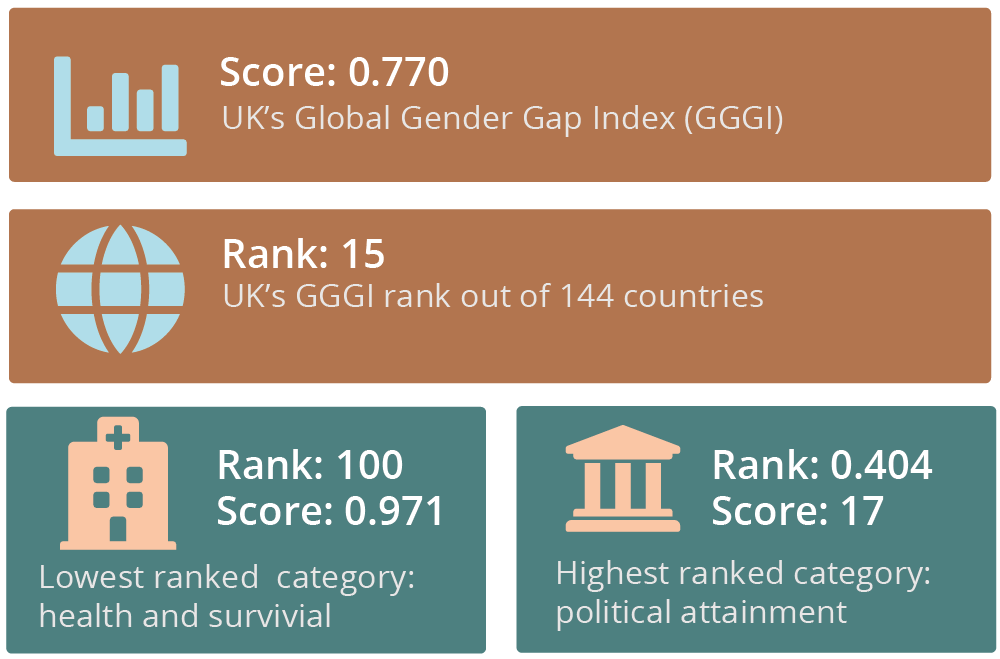 UK global gender gap index (GGGI)
Global Gender Gap Index (GGGI) assesses gender gaps on economic, political, education, and health criteria. Values range from 0 to 1, with lower values indicating more disparities between the genders. According to the Global Rankings Report 2017, the UK's GGGI is 0.770 (rank 15 out of 144 countries). The UK was ranked the highest on political empowerment subindex (score: 0.404, rank: 17). The country's lowest rank was on health and survival subindex (score: 0.971, rank: 100). Largely due to an increase in political empowerment among women, the UK climbed several ranks in the GGGI compared with the previous year.
Women, compared with men, were more likely to experience all types of domestic abuse, except for non-sexual family abuse where the difference between the two sexes was statistically non-significant. As for lifetime prevalence, it is estimated that 26% of women and 15% of men aged 16 to 59 had experienced domestic abuse since the age of 16.
Walby (2009) estimates that providing public services to victims of domestic violence and the lost economic output of women affected costs the UK £15.8 billion annually. The cost to health, housing and social services, criminal justice and civil legal services is estimated at £3.9 billion.
Findings of another study among young people aged between 15 and 18 years from England (N = 199) and Spain (200) indicated that 25% of English girls occasionally experienced mild victimisation. The same proportion of girls also reported more severe physical victimisation. English boys appear to experience similar levels of occasional mild victimisation (20.5%) but substantially lower rates of occasional severe victimisation (5.1%) than girls.
GBV, however, is not limited to adult relationships. The prevention of adolescent violence has been on UK's political agenda since the 1990s but research on dating violence among UK samples has been sparse. Addressing this significant knowledge gap, a study among 1185 young people who had at least one relationship experience, demonstrated that a quarter of girls (n = 150) and 18% (n = 100) of boys were exposed to some form of physical violence by a partner. Girls were also more likely than boys to report negative impact (such as feeling humiliated and upset) of such violence. Emotional violence was reported by 72% of girls and 51% of boys. Experiences of sexual violence, on the other hand, were reported by 31% of girls and 16% of boys (Barter, McCarry, Berridge, & Evans, 2009).
Thanks to the introduction of the Domestic Violence Disclosure Scheme (DVDS) – also known as Clare's Law – in 2014, women now have a right to know (in prescribed circumstances) if their partner has a violent past. The law means women can be protected by new domestic violence protection orders (DVPOs). Additionally, in 2018, the government conducted a consultation among domestic violence survivors, professionals, and local authorities in order to seek their views on legislative proposals for a landmark draft Domestic Abuse Bill and a package of practical action. In considering UK's multiculturalism, GBV can take many different forms. Types of violence which predominantly affect women from ethnic minorities include female genital mutilation (FGM), forced marriage, and 'honour'-based violence. Although all the above are now regarded as GBV and have been outlawed, they were initially treated as condemnable cultural practices. The UK ratified the Convention on the Elimination of all forms of Discrimination against Women (CEDAW) in 1986.