India gender-based violence policy hub
This hub provides key facts about gender-based violence (GBV) in India.
Gathering and updating this information will help to inform our own research in the area and, over time, influence policy to help reduce GBV. It will also help to inform the None in Three game aimed at young people in India. For more information and references, download our policy briefing sheet.
Timeline of India's most important legislation and judgements related to gender-based violence

A large country in Southern Asia, India has a population of approximately 1.3 billion. It is currently classed as a lower-middle income nation according to the World Bank.
Gender Inequality Index (GII) measures gender inequalities between women and men in three important areas: reproductive health, empowerment, and economic status. Values range from 0 to 1, with higher values indicating more disparities between the genders. India's current GII index is 524. Comparable scores are currently held by Tanzania (0.537), Gabon (0.534), Uganda (0.523), and Zambia (0.517).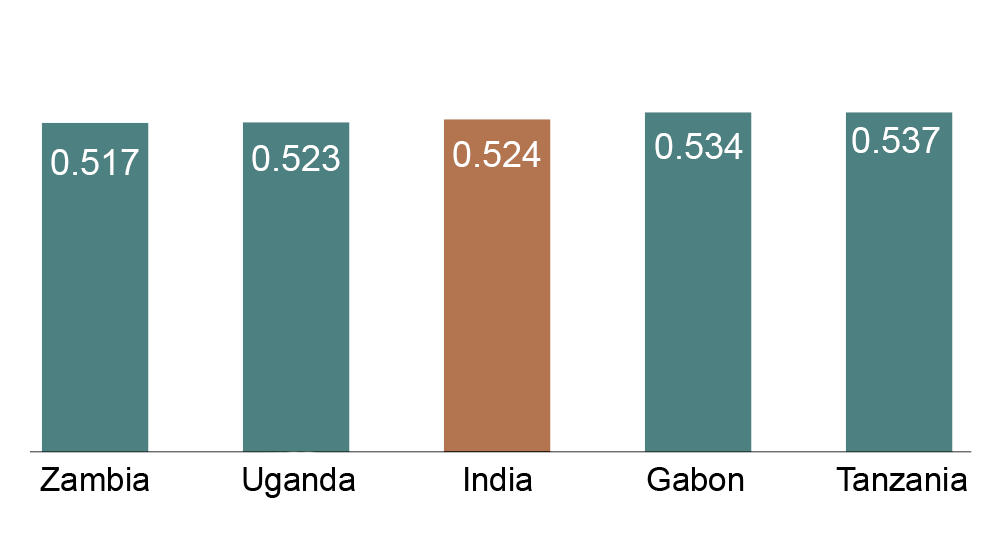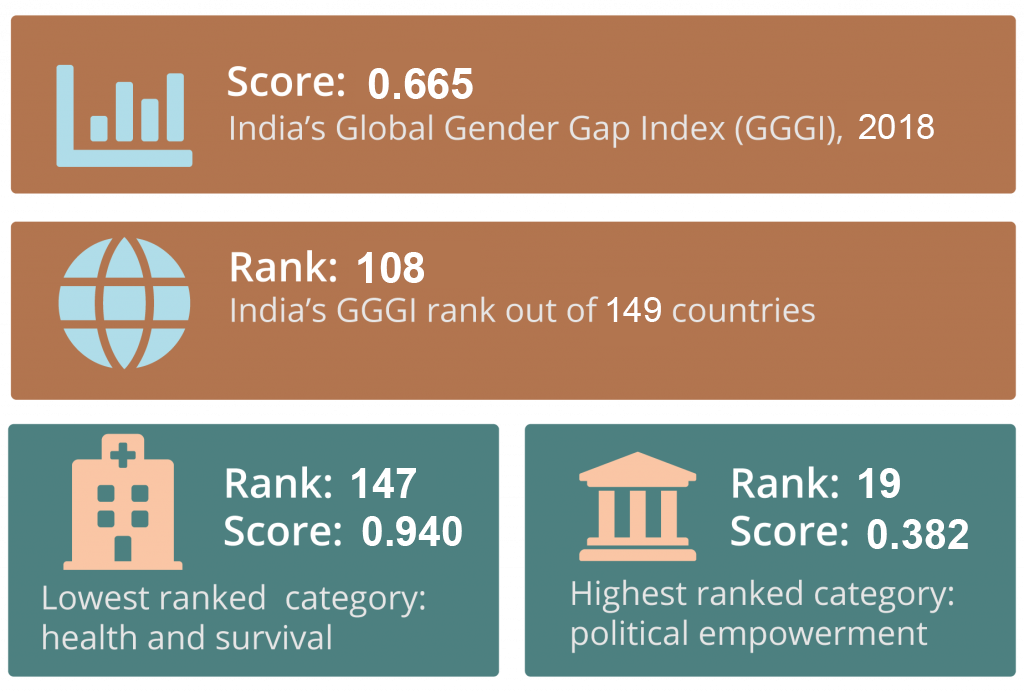 India's global gender gap index
Global Gender Gap Index (GGGI) assesses gender gaps on economic, political, education, and health criteria. Values range from 0 to 1, with lower values indicating more disparities between the genders. According to the Global Rankings Report 2018, India's GGGI is 0.665 (rank 108 out of 149 countries). The lowest rank recorded for India was on health and survival subindex (score: 0.940, rank: 147), followed by economic participation and opportunity subindex (score: 0.385, rank: 142), and educational attainment subindex (score: 0.953, rank: 114). India had a high 19th rank on political empowerment (score: 0.382). In 2018, India recorded an improvement in wage equality for similar work and the tertiary education gender gap has been fully closed for the first time. However, India's gender gap on health and survival has widened, indicating that more efforts and resources need to be directed at increasing women's access to healthcare.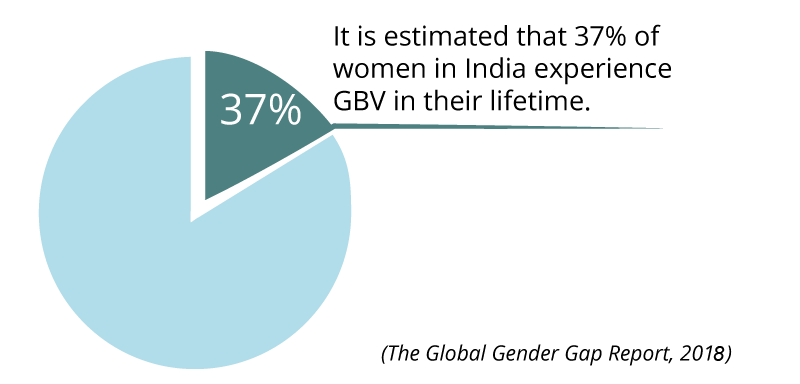 Gender discrimination is rife in India, including physical, sexual, emotional and economic violence, son preference, unequal resource distribution and unequal decision-making power. Caste discrimination, communal violence and economic policies also impact women in different ways.
GBV crime statistics are high, yet rights workers argue that official statistics do not reflect the magnitude of the problem, as sex crimes are likely to be underreported due to social stigma. The Hindustan Times (August 2017) reported that over 1,000,000 cases had been filed in 10 years under sections pertaining to cruelty by husband and dowry (Chachra, 2017).
Domestic violence
One form of GBV which appears to be prevalent in India is domestic violence. A community-based study on the topic among 450 women from Gujarat (a state in Western India) indicated that 42% of participating women experienced physical beatings and sexual abuse, 23% experienced abusive language, belittlement, and threats, and 56% believed that wife beating is justified (Nambi, 2011). In 2002, the International Center for Research on Women reported that 85% of men admitted being violent against their wives in the 12 months preceding the study, 57% sexually abused their wives, and 32% were violent towards their pregnant wives. Some of the correlates of domestic violence perpetration and victimisation in India include lower educational status, lack of family satisfaction to the items brought by women, low family income, increasing age of women, and the husband's alcohol consumption. However, correlates of domestic violence were found to differ across Indian states (see Borah, Kundu, & Mahanta, 2017).
Research also investigated the effects of domestic violence on women's health. For example, a study with a large sample of  9,938 Indian women aged 15-49 revealed that experience of physically violent behaviours by their husband doubles the risk of poor mental health among affected women, compared with women who had not reported any physical spousal violence (Kumar, Jeyaseelan, Suresh, & Ahuja, 2005).
cruelty by husband or relatives crimes
assaults on women
kidnapping and abductions cases
rapes
violations of the Protection of Children from Sexual Offences Act, 2012
2002 study of men's behaviour towards their wives 
Other forms of violence against women and girls which require immediate attention include dowry-related violence and harassment and child marriage. Although, in line with the Prohibition of Child Marriage Act (PCMA) of 2006, the legal age for marriage is 18 for women and 21 for men, India has the highest number of child brides in the world. According to the Ministry of Women and Child Development, over half of Indian children suffer sexual abuse, but it is clearly far more widespread than is admitted (Human Rights Watch, 2012).
Responding to gender-based violence
India's national policy for women:
In 2016, a draft national policy for women was published by the Government of India, Ministry of Women and Child Development. Its mission is to create an effective framework for the development of policies, programmes, and practices which would ensure gender equality. The policy focuses, among others, on prioritising a holistic approach to women's health, the nutrition of women of all ages, and strengthening geriatric services for women. The policy also talks about engaging men and boys through advocacy, awareness generation and community programmes to instil respect for women in men from a young age. The overall vision of the draft policy is to create a society in which women would be able to attain their full potential and participate as equal partners in all spheres of life.