None in Three Newsletter Issue #2
February 2020
About Ni3
None in Three (Ni3) is a global research centre for the prevention of gender-based violence (GBV).
The name None in Three comes from the statistic that one in three women around the world will experience some form of physical or sexual violence in their lifetime. We believe this is an unacceptable number; that any violence against women and girls is not OK, and we work to make that number NONE in three.
GBV is the term used to describe harm inflicted upon people that is connected to how their gender is understood within their culture. We research different forms of GBV and are developing interactive computer games as educational tools for young people, to be played in schools.
Through these games we aim to effect meaningful cultural change. We work to change attitudes and behaviours that relate to different types of GBV, including sexual abuse; adolescent dating violence; gender bias and its relationship to gender-based violence; and child marriage.
We are passionate about making a difference. Through our work we are striving to change the behaviours and attitudes not only of individuals, but of governments too.
We seek to achieve real-world impact through our research. We want to persuade governments to listen to the facts about GBV, to accept the extent of the problem, to acknowledge how many women and girls are being abused, and to act in order to change this.
Significant Milestone Reached
The None in Three Research Centre has recently reached a substantial milestone, with the completion of our qualitative research, involving face-to-face interviews with survivors and perpetrators of gender-based violence in four countries. A huge amount of work has gone into recruiting participants, conducting and painstakingly transcribing interviews, then analysing the views and experiences of our interviewees.
The work has been carried out by our country-based research teams, who, through their analysis, have been seeking to identify trends and patterns to gain a deeper understanding of gender-based violence in each of our study countries. This will help us to make policy recommendations to improve the experience of those affected by GBV, as well as to help prevent instances of GBV in the first place.
The knowledge and experiences gathered through this research are already feeding into the development of our educational games, aimed at GBV prevention.
In the coming months we will be looking to publish reports based on our findings. You can read more below now about the initial outcomes of our work.
Responses from our Researchers
As well as generating important learning, policy recommendations, and content to inform our game development, the Ni3 research also has a profound impact on those conducting it, namely the researchers. We asked members of our Ni3 team  about their experience of  this current phase of research. Notably, they highlight the extent to which, for those working to tackle GBV, their roles are much more than just an occupation.
Although we are dealing with different forms of GBV, and different cultural contexts, gender-based violence is a truly global issue. The impacts and repercussions of experiencing GBV may differ for many reasons, such as situational or personal factors and the availability of help and support. However, this feedback from our researchers suggests that the impact of carrying out this work is much more universal: increased empathy and understanding and significantly, the recognition of resilience among survivors.
Our researchers' experiences on the ground have been remarkably similar to those of the researchers who undertook the Ni3 Caribbean work – hear their reflections on the process in this short documentary 'Behind the research'.
Preview of our Research Findings
Now that our researchers in India, Jamaica, Uganda and the UK are putting the finishing touches to their qualitative research reports, we start to look at how the findings can be applied to improve people's lives.
Some brief highlights of key findings are included below.
Jamaica
In Jamaica, our focus is on the long-term impact of childhood sexual abuse (CSA). This research examines the long-term negative psychosocial impacts of CSA, and will result in a series of recommendations to address this significant problem. In particular the team has been keen to explore and understand factors that prevent victims from coming forward to the authorities, as well as the long-term repercussions for those who do speak out.
Our research indicates a strong need for the relevant authorities to receive specialised training on supporting children who report CSA. There is a need for staff in both the medical and judicial systems to be better trained and equipped to respond to persons who have experienced CSA.
India
Our work in India explores the damaging impact of gender bias in Indian society. This research has highlighted the forms of violence that women, children and young people face in their homes and communities. One of the underlying causes of this violence is the prevalence of patriarchal traditions and beliefs, which remain unchallenged.
Our research suggests that this violence can be reduced if young people are empowered to resist patriarchal practices. This is equally true for both men and women. We have to challenge the bystander attitude towards gender bias.
Uganda
Our team in Uganda has focused on the impact of child marriage. This research has highlighted some common narrative themes, such as poverty, particularly in situations when girls drop out of school and fall victim to older men who initially provide necessities and luxuries that their families are unable to afford. Lack of knowledge about contraception and sexual health was also an issue. The long-term effects of child marriage identified include intergenerational poverty, illiteracy, family break down, poor child development, intimate partner violence (IPV) and HIV/AIDS.
Our research in Uganda indicates that there is a strong need for government – through the district community department – to liaise with relevant civil society organisations (CSOs) to mobilise and engage communities in dialogues on the meaning of GBV.
UK
Our team in the UK has explored Intimate Partner Violence (IPV) in young people's relationships as the central theme of their research. Findings show that those who witnessed abuse in their childhood are at an increased risk of victimization as adults. One in three of the women we interviewed had suffered childhood neglect or abuse, or had witnessed domestic abuse. Similarly, one in three had endured more than one, if not multiple, abusive intimate relationships as adults.
UK research suggests that domestic abuse must not be seen as a private matter. The daily trauma that victims are routinely subjected to is unacceptable, and must be acknowledged as a public issue for the whole of society, in order to alter interventions and bring about effective change.
Next steps
Watch this space for publication of the findings and policy recommendations from our qualitative research. Our next step is to integrate these research findings into the four prosocial games in development. More on the joys and challenges of developing evidence-based, culturally appropriate computer games, in our next issue!
The Story of 'Jesse'
You can read findings and recommendations from the equivalent work in our previous Ni3 project in Twenty-one lessons: preventing domestic violence in the Caribbean. This work informed the development of Ni3's first pro-social video game, 'Jesse', developed through a 2016-18 EU funded project for young people in Barbados and Grenada.
The impacts of 'Jesse' are still resonating widely, with changes in attitudes toward gender-based violence and disruptions to cycles of violence having been evidenced as a result of the game's implementation in schools and broader public engagement activity.
'Jesse' has outlived its research grant period and gone on to be adopted recently by the Ministry of Education in a third country, St Lucia.
Watch the highlights film below to see some of the positive responses from schools and young people involved in piloting the game in St Lucia.
An international perspective: Mikael Barfod
We invited Mikael Barfod, member of None in Three's International Advisory Group (IAG), to share his views on our important work.
In February 2013, when I was still EU Ambassador to the Eastern Caribbean and based in Barbados, the British High Commissioner invited me to an evening lecture by, I was told, a very interesting British academic from the University of Huddersfield. In brilliant fashion Professor Adele Jones highlighted the seriousness of gender-based violence in the Caribbean, which persuaded me to buy her latest book on "Understanding Child Sexual Abuse". Vulnerable people and situations was not a new subject to me as I had spent most of my career in the UN and the EU dealing with humanitarian and development assistance in Africa, Asia and the Caribbean – and at the end of my career I specialised in crisis management, human rights and foreign policy. After listening to Professor Jones, I immediately felt it was time for the EU to make prevention of GBV top priority in the Eastern Caribbean.
Huddersfield University/Ni3 won the subsequent EU call for proposals in the Eastern Caribbean because of their very innovative approach with a game for school children. I was happy to have assisted in the birth of Jesse, the main character of the game, which, according to the latest reports, has become a huge success in the Caribbean. I have a certain amount of pride that this pilot project has helped Huddersfield University/Ni3 to successfully apply for additional funds from the UK government in order to launch at the end of 2017 the current and much larger four-country research project, which involves the UK, Uganda, Jamaica and India.
After my retirement from the EU I was delighted when the University honoured me with the title of Visiting Professor within the School of Human Health Sciences and gave me the opportunity to become part of the International Advisory Group for Ni3.
Following participation in the Ni3 summit in Mumbai this year, I have taken on an advisory role in preparing for the mainstreaming and up-scaling of the game interventions and associated policy advice being developed across the four countries. I believe many of us hope the current work will follow in the footsteps of Jesse, which has taken on a life of its own even after the EU funding came to an end. The game is not only popular in schools, but it is now possible to measure a significant positive change of behaviour towards GBV amongst the children using the game.
After an absence of 36 years I returned to my native Denmark in 2017. I could not help but observe and comment on the state of the work to prevent GBV in my own region, Scandinavia. Sweden adopted a law requiring mutual consent before sex to avoid domestic rape and Denmark made psychological violence a crime along with physical violence. The discussion on sexual violence is very lively and I have hopes that Denmark will eventually follow Sweden in formally recognising the importance of mutual consent before sex. Although the debate is encouraging it must nevertheless be seen against a stark background: statistically Scandinavian countries, like many other developed and less developed countries, still have a long way to go to get to grips with the scourge of GBV. I am currently toying with the idea that the Ni3 game currently being developed for the UK could somehow also become a source of inspiration for the research related to GBV prevention in Scandinavia.
Mr Barfod is Visiting Professor to the University of Huddersfield, and a member of Ni3's International Advisory Group. He is based in Denmark. Read his profile here.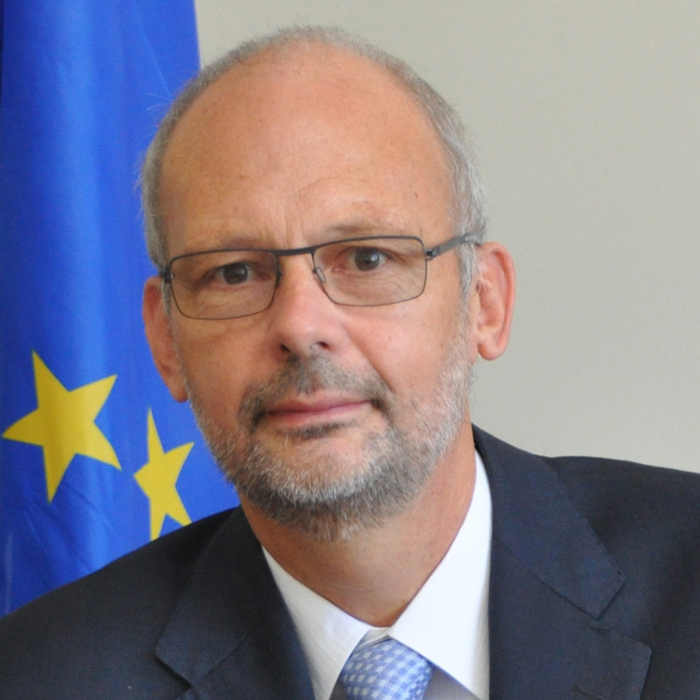 Mr Barfod, former EU Ambassador, and Ni3 International Advisory Group member, gives his perspective on the work of the Centre as it continues to develop across the globe, asking, where next for None in Three?
If your organisation may be willing to provide financial or in-kind support for getting our anti-violence computer games into schools, e.g. through the provision of laptops, please contact us.
Next Steps
We are currently concluding our analysis of all the interview data. After this, over the coming months, we will be publishing the full findings from our qualitative research for each of the four study countries. We hope that these publications will make a significant contribution to the global debate about GBV.
Within None in Three, our research findings will also prove crucial to ensuring that the games we are developing are culturally relevant and are informed by real people's experiences of GBV. The ability of our games to resonate with their intended audience (young people) is crucial to ensuring their success as effective interventions to achieve the cultural change needed to bring an end to GBV.
In our next newsletter, we will look in more depth at the game development process and see how the characters and stories have been influenced by our research throughout the world.
The IDEA Hub
Visit our online hub for Impact Dissemination and Engagement Activities (the IDEA) related to None in Three's research, including latest news, publications, video and social media content.
Visit The IDEA Hub for more news
None in Three is funded through the UK government's Global Challenges Research Fund and the University of Huddersfield. The global research centre is based at the University of Huddersfield and its work is currently being delivered in partnership with: ISDI School of Design and Innovation, Mumbai; UTech, Jamaica; Makerere University, Uganda; and the University of Sheffield, UK.